Our aim is not to provide the cheapest products on the market, but to provide the best value products with all the necessary support. Here, we explain all the value layers that are built into our product prices.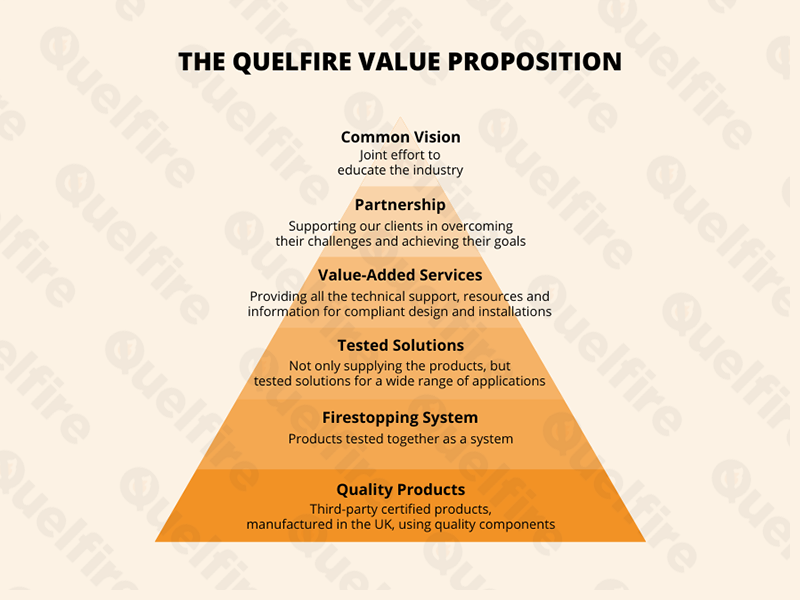 Our products are of high quality
Quelfire is an ISO 9001 certified company and a trusted brand that is renowned for its long-standing commitment to high-quality products, which are independently certified by Warringtonfire, a UKAS accredited certification body. Our core products are manufactured in our purpose-built premises in Sandbach which is centrally located in the UK. We carefully select raw materials and manufacture in strict compliance with established factory control procedures.
We are also committed to working with our supply-chain partners to keep the cost of sourcing our products as low as possible. However, we are not willing to compromise on the quality of our products and their component materials. Whilst we try to offer competitive prices, the influence of many factors including the increase in prices of key raw materials, higher energy and manufacturing costs, and rising transportation costs also work to determine our end price.
The value lies in the cost of the tested system, not cost of each product
Service penetrations are often sealed using multiple products together, for example fire batt, intumescent sealant and a closure device or seal. The purpose of any passive fire protection product is to ultimately to save lives. Performance of products is determined through extensive testing and products need to be tested exactly, or as close to, how they are going to be used in a real-life scenario. Testing takes many variables into account such as wall thickness and composition, aperture size and proximity of service penetrations to each other.  The guarantee of the performance of the product in the event of a fire is essentially determined by the test evidence and therefore all final installations should be carried out as per the manufacturer's testing and scope of application.
Manufacturers also need to ensure that products used together are compatible with each other and that a potential chemical reaction between them is not going to affect the performance.
Products from various manufacturers may appear similar, but there might be differences in dimensions, composition and density of the material which can affect the overall performance. If products were to be mixed and matched from different manufacturers, and used together in endless combinations, testing all these combinations would not be viable to any manufacturer. Accordingly, only products that have been tested together as a system (i.e. products from the same manufacturer) should be installed together.
Whilst it may be tempting to mix and match different components from manufacturers, if they have not been tested together then there is no evidence to demonstrate that they would perform in the event of a fire. Therefore, whilst it can be tempting and easy to compare the cost of individual products, the cost of all the products used in the system must be considered along with the tested scope of application which could differ considerably between manufacturers.
Our main offering is tested firestopping solutions, not the physical products
The role of a firestopping product manufacturer is far greater than selling firestopping products or even firestopping systems as explained above.
At Quelfire, we provide tested firestopping solutions, which is the combination of physical products used in different applications. We have one of the widest ranges of tested details for service penetrations in the industry; we have solutions for the most commonly used applications, and even for some unusual ones.
We are committed to continuously developing and extending the scope of application for our products and extending our library of tested details. To support this, a significant proportion of the company's annual investment goes into research and development. Based on regular customer feedback and commonly used real-life scenarios, our R&D team currently complete at least one fire test per month.
All our tested detail drawings can be found on our website and can be accessed by anyone.
We provide value-added technical services to achieve compliant design and installations
It needs to be ensured that our solutions are designed as per the test evidence and installed as per the design. To achieve this, we are happy to provide every single party involved in the process of designing and managing the installation of firestopping systems with all the support, tools, and information to be able make informed decisions about which solution to use.
Designing and installing the correct firestopping solution, ultimately, protects people and property. Needing to redesign or reinstall firestopping due to incorrectly selected applications, or lack of training onsite, can cause extra costs and time delays. Therefore, the cost of 'not getting it right' can be far greater than the cost of high-quality products which are backed up with extensive technical support. Being committed to getting it right the first time around is crucial.
Value added services we provide:
Technical resources and tools we provide:
We work together with our customers as partners, not only as suppliers
As we sell our products to contractors directly, maintaining excellent customer service, irrespective of the size of the organisation we serve, is a must. Our regular customers can also benefit from the support of a dedicated account manager.
In addition to the contractor who places the actual order with us, we support every other party involved in the design and management of installation of the firestop too, from the architects through the main contractors to specialist firestopping contractors and parallel trades such as installers of mechanical and electrical services and drywall installers. We also liaise with other system manufacturers and fire engineers involved if necessary. We talk to everyone within the organisation from designers to contract managers and from directors to site managers if required.
We work closely together with our customers and are constantly thinking of ways to improve our processes, add new value-added services, tools or resources and to help them overcome their challenges and grow their business. We are also supporting them in keeping up with regulations and industry trends, and they can utilise our technical expertise when optimising their in-house processes and improving their offering to their customers. Ultimately, we are contributing to enhancing their value propositions and building their reputations.
We treat our clients extensively involved in firestopping as partners, and work with them to identify common challenges that they face with a view to developing solutions, carrying out relevant fire tests and therefore improving our tested detail portfolio. It can be a lengthy process from the initial date of the fire test to being able to add a tested detail to our library, so regular communication about any potential new applications that can be added is crucial.
We educate the construction industry and support our customers' endeavours to do so
We are committed to educating the industry about the importance of passive fire protection, and we use every opportunity and platform available to us to talk about why early engagement in firestopping is crucial:
Our CPD training on effective passive fire protection is available to anyone in the industry as a monthly webinar.
We regularly attend trade shows, and host presentations and panel discussions.
We publish articles about updates on regulations and important trends in the industry
We have a Knowledge Hub and a Glossary on our website answering some of the most commonly asked questions and to providing fundamental information for anyone wishing to learn more about firestopping.
We share informative posts and videos on our LinkedIn page and YouTube channel.
We are happy to support any of our customers who find educating the construction industry equally important with joint events or publications.
Summary
The quality of our products:
Independently certified products
Raw material and components acquired from reputable sources
Manufactured in the UK
Factory control procedures and quality checks
ISO 9001
CE Marking
Cost per system, not cost per product
Multiple products are installed as a system (as tested) therefore the cost of the package of products should be considered not the cost of the individual products.
Providing tested firestopping solutions, not selling products
Ultimately, we provide tested firestopping solutions, where the physical products are used in various combinations.
We have one of the most comprehensive lists of tested details in the industry.
Our tested details are freely available for anyone to browse.
Value-added technical services to achieve compliant design and installations
To ensure that our solutions are designed as per the test evidence and installed as per the design, we offer value added services, tools and resources:
Early engagement consultation
Technical support
CPD training on effective passive fire protection
Toolbox talks to support compliant installation
Tested detail drawing library on our website
Extensive product documentation and installations guides
NBS specifications and BIM objects
QuelSelector firestopping solution finder
Technical Information Collection Form (ICF) to submit your requirements in an effective and convenient way
Working as partners, not only as suppliers
In addition to the excellent customer service and, for regular customers, the support of a dedicated account manager, we work closely with our customers to improve our offering to them, as well as to support them in overcoming their challenges and achieving their goals.
We use our customers' feedback to continuously extend our library of tested firestopping solutions.
We support every party involved in the design and management of installation of our firestopping solution, from the architects through the main contractors to specialist firestopping contractors.
Educating the industry together
We educate the construction industry about the importance of passive fire protection and early engagement in firestopping on every platform available to us. We are ready to join forces with our customers with similar endeavours
Get in touch to see how we can support you