What is toolbox talk training?
Traditionally, toolbox talk training is an informal team meeting which can take place at any time, typically onsite where the work happens. With the presumption that all individuals are aware of the health and safety risks onsite, toolbox talks are designed to refresh and reinforce this knowledge before starting the workday or a task. They are usually brief and to the point, around 5-10 minutes, and are incredibly effective at improving health and safety whilst at work.
Many customers and clients ask us for 'product toolbox talks.' Call them toolbox talks, product installation training, manufacturer product training or even TBT for short – we offer them!
At Quelfire, we not only educate 'how' to install products but 'why' they need to be installed correctly. These sessions are conducted, via Teams, by one of our fire containment specialists and typically take around 20-30 minutes, depending on the product showcased. The presentation focusses both on the educational and more practical side of passive fire protection and is tailored to the project at hand.
Who is it aimed at?
The training is primarily aimed at installers of firestopping products and those involved in the construction or management of the project, especially those involved in inspection and quality control.
It is particularly popular for trades that are non-accredited:
Electricians installing intumescent putty pads to electric sockets
M&E contractors fitting fire sleeves to ventilation
RC frame contractors for cast in fire collars
Mechanical contractors installing fire collars and fire protection compound to plastic pipes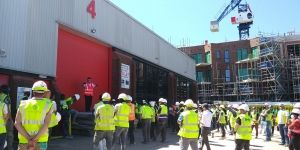 What does it cover?
The main aim of our product installation training is to make sure the installer understands the process of installing a firestopping product, what it looks like correctly installed, and why it needs to be installed as per the manufacturer's guidance.
Whilst the whole session is educational, the first section specifically focusses on what passive fire protection is and why products are required before moving onto a step-by-step guide to installation:
What is passive fire protection?
Why is PFP so critical?
Intumescent – what is it?
An insight into the testing process
Importance of project-specific product details
Step-by-step installation guide
Things to look out for
Key considerations
Case study
Interactive quiz
Q&A session
The QuelStop Firestopping System
We also offer a more comprehensive training session for the QuelStop Firestopping System intended for specialist firestop contractors. This training covers the following:
How and where to access technical support and standard installation details
An overview of the tested scope of application
A detailed look at some sample installation details
Critical measurements including letterbox sizes and annulus requirements
Pattress batt overlap requirements
Spacing of services
Other products that can be used in conjunction with the QuelStop System
Q&A session
There is no cost for these training sessions, get in touch with us to arrange a mutually beneficial time and date.
What products do we offer installation training for?
CFC Ceiling Fan Cuff
Putty Pad
QF2 Fire Protection Compound & QWW Intuwrap
QRS Fire Sleeve
QuelCast Cast in Fire Collar
QWR Fire Collar
The QuelStop Firestopping System
Book a Toolbox Talk
Download information sheet about our toolbox talk training

Quelfire - Toolbox Talk (Product Installation) Training
You can download multiple documents in one go from the Product Documentation Download page
For other technical resources and helpful information, please visit our help page:
Go to Help