Intumescent Fire Collar for Plastic Vent Ducts | QWR
QWR Fire Collars for Plastic Vent Ducts prevent the spread of fire where plastic ventilation ducts penetrate fire compartment floors.
QWR Collars can only be used to firestop ventilation ducts in certain applications, for firestopping ventilation ducts used in most common applications, please check out the QRS Intumescent Fire Sleeve.
Features & Benefits
Tested to BSEN 1366-3: 2009
Up to 4 hour fire rating
Suitable for thin wall PVC ventilation ducts
Can be retrofitted
Performance unaffected by weathering
(Type X Durability)
Regulations
Building Regulations impose limitations on all pipes passing through fire compartment floors. QWR Fire Collars allow plastic pipes and ducts to meet the requirements of the Building Regulations. QWR Fire Collars have been tested according to BSEN 1366-3: 2009 and provide up to 4 hours fire integrity and insulation.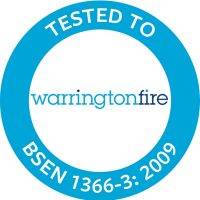 The Warringtonfire Logo is used by Quelfire Limited in the United Kingdom under licence from Warringtonfire and is evidence that the products denoted as 'Tested by Warringtonfire' were tested to BSEN 1366-3: 2009 in England between September 22nd 2015 and June 21st 2019.

View Product Downloads