What Quelfire product do I use for plastic pipes? Tested Detail Queries
A fire collar (QWR & QWX) is a recognised product for plastic pipes.
However, as the range of plastic types, sizes and applications increase in the construction industry, most manufacturers of passive fire protection products for service penetrations will also have other fire tested products available. For example, intumescent wraps (QWW Wrap & QuelCoil), high expansive graphite sealants (QuelStop HPE Sealant) and even intumescent pipe sleeves (QIF Fire Sleeve & QRS Fire Sleeve).
Selecting the most suitable product can be difficult and will require you to ensure that you consider all the factors of your application. This includes the pipe type and size, chemical compatibility, supporting construction type, fire rating required and orientation.
We have a very large library of tested applications for plastic pipes so, to help you navigate through these detail drawings we have launched the QuelSelector tool which you can find here.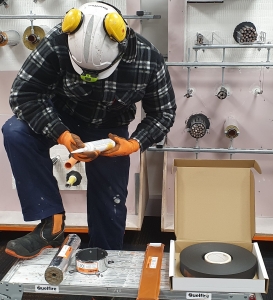 QWR Fire Collar from Quelfire