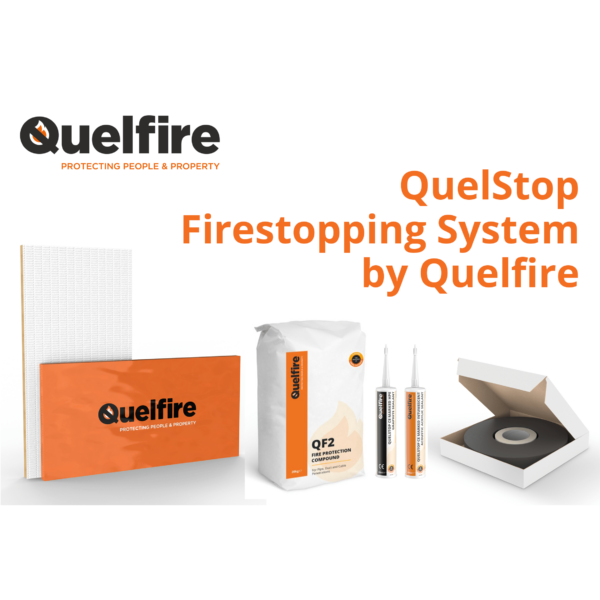 Quelfire, one of the UK's leading passive fire protection manufacturers and suppliers, has introduced an innovative approach to firestopping with a one-stop-shop system aimed at specialist firestopping contractors as well as drylining and partitioning installers.
Major benefits of the new Quelfire firestopping system are the high quality of individual products, comprehensive testing and technical back-up, which means quicker and more efficient installations.
In combination, they save time and labour costs on site, so contractors have the potential to complete more quality installations during a given time, and for commercial teams to present an enhanced value proposition at tender stage.
Introduction of the firestopping system is the latest new initiative from Quelfire, an innovative company that is committed to investing, developing, testing and extending the scope of application for its wide range of passive fire protection products. A significant proportion of the company's annual investment goes into developing new products or systems that push the benchmark for passive fire safety in buildings.
The new Quelfire firestopping system comprises QuelStop Fire Batt, QuelStop CE-marked Intumescent Acrylic Sealant, QF2 Fire Protection Compound, QuelStop HPE Intumescent Graphite Sealant and QuelCoil Continuous Intuwrap. All the products have undergone rigorous testing as a complete system, which means contractors avoid having to source different products from multiple suppliers.
The fact that the products are made in the UK, sourced from a single supplier, tested and supported with full technical back-up, gives the specifier greater confidence in the performance of the installation. Retaining the integrity of fire compartments maximises the amount of time available for people to escape the building and for fire services to tackle the blaze before it spreads. Quelfire's firestopping system is suitable for use with most common service penetrations as well as some of the more uncommon or unusual applications.
Sourcing passive fire protection systems from Quelfire means contractors receive all the value for money benefits of buying direct from the manufacturer. Most products in the new Quelfire firestopping system are available on next day delivery.
New to the firestopping system is QuelCoil Continuous Intuwrap, a universal application that can be used on a variety of pipes, including non-combustible insulated pipes. Unlike traditional wraps it can be cut to length on site, minimising waste, creating a better fit and reducing costs for the installer.
Other highlights of the Quelfire firestopping system is QuelStop Fire Batt, a coated mineral wool board that provides up to 2 hours fire rating. Recent testing by Quelfire has increased its scope of applications further. It is effective at reinstating the fire rating of wall and floor constructions where they have been penetrated by services.
Additional development and testing of the QuelStop Intumescent Acrylic Sealant, which has just gained CE-marking, provides up to 4 hours fire rating (EI240), has again increased its scope of application.
Completing the firestopping system are Quelfire QF2 Fire Protection Compound, a gap filling material where cables, ducts or pipework services penetrate fire compartment floors and walls, and QuelStop HPE Intumescent Graphite Sealant, a high expansion intumescent acrylic based graphite sealant. The QuelStop system is also compatible with other Quelfire products, such as fire collars and fire sleeves.
Quelfire Managing Director, Keith Wells, said: "Our aim is to support firestopping contractors by providing them with a one-stop-shop, single branded system. This innovative firestopping system brings together a number of new and existing products, enabling contractors to retain high quality fire compartmentation."
Keith added: "Our firestopping system makes a step change in the way products are specified and sourced. Quelfire is an innovative company that constantly develops, tests, and extends the scope of application for passive fire protection systems as we look to maintain our market leadership."
Quelfire is one of the leading manufacturers and suppliers of specialist passive fire protection for buildings and has 40 years' experience of supplying high quality, independently tested solutions. The company's products are tested to the current standards including; BS EN1366-3: 2009 and BS476: Part 20: 1987. A number of its products are also CE Marked.
Quelfire has a reputation for the support it offers customers including unlimited technical advice during creation of specifications, overcoming on-site complications and during installation.
View products in the Quelfire firestopping system >>
Find out more about Quelfire technical support for contractors >>