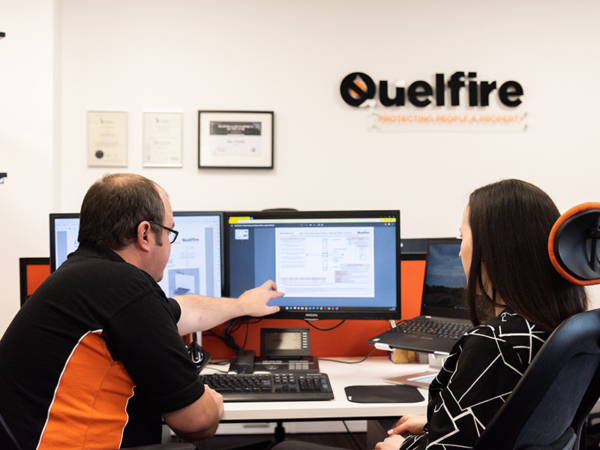 Alec Purdie, Technical Manager at Quelfire, stresses the importance of standardising fire safety in construction
Fire safety is more than just a box to tick in the construction industry; it's a moral obligation to ensure the safety of every individual inside a building. As the construction landscape evolves, the importance of standardising fire safety processes cannot be understated.
Iain Hoey, Editor at International Fire and Safety Journal, sits down with Alec Purdie to delve deeper into Quelfire's commitment to building safety, their vision on standardising processes, and their continued presence and influence at London Build.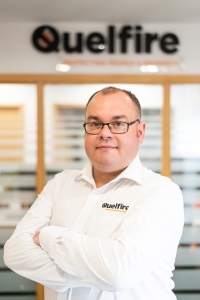 Who is Quelfire and what is its mission in the fire safety sector?
Quelfire is a leading manufacturer and distributor of passive fire protection products. At our core, our mission is straightforward: to protect people and property. We achieve this by supporting all stakeholders—from the design phase at a project's onset to its conclusion at the build stage.
What sets us apart is our specific emphasis on passive fire protection. We pride ourselves on being subject matter experts, particularly in the realm of service penetrations. Our vast library of validated applications continues to expand monthly. This growth is underpinned by our regular fire testing, grounded in real-world scenarios and feedback from our customers.
We are more than just product sellers: we've committed our expertise to educate the industry, emphasising the criticality of early engagement in designing service penetrations in buildings. Our aim is to shift the mindset towards proactive design, rather than it being an afterthought.
What does "early engagement" mean?
Quelfire has been a proponent of early engagement for years. By educating companies on its significance, we've positioned ourselves as leaders in this domain. Those who've adopted this approach have seen notable improvements in their projects.
Early engagement ensures that applications are compliant. There are myriad factors to consider, which many might overlook. For instance, while plasterboard ceilings are prevalent, there isn't a standard test for service penetrations in such constructions. Newer materials, like CLT (Cross Laminated Timber) — chosen for their eco-friendliness over concrete or plasterboard — also lack extensive test evidence. This means architects might inadvertently choose non-compliant constructions.
Service penetration types add another layer of complexity. The diversity in plastic, metal, and insulation types is vast. For instance, MLC (multilayer composite pipes) is gaining popularity over traditional materials like copper, but corresponding test evidence is lacking.
Also, fire ratings are often misunderstood. For service penetrations, fire resistance is not just about preventing fire spread; it's about halting heat transfer, an aspect often overlooked. Metal components, such as cable carriers or large pipes, conduct heat efficiently. Some design solutions don't factor this in.
Relying solely on guidance documents without understanding their actual implications might lead to non-compliance.
Issues often go unnoticed due to late engagement, and this results in a rush to rectify non-compliances, which can be a costly and cumbersome process.
What does a standardised process for a main contractor involve?
The essential aspect for passive fire protection in service penetrations is timing it appropriately within the building design schedule.
The process involves:
Fire strategy determination: Begin by outlining the building's fire strategy and identifying all structural components.
Construction type verification: Sometimes, the architect's preferred supporting construction type isn't viable. Recognising this early allows for adaptability.
Understand structural dynamics: Consider aspects like floor and beam deflection and any load-bearing elements. This helps determine suitable products and installation methods.
Service selection: It's pivotal to choose service types early on. For multifunctional areas housing various services like cable trays and pipes, design considerations, including spacing requirements, become paramount.
Detailed information sharing: The design team should provide manufacturers with comprehensive data. For instance, specifying a 28mm copper pipe with 40mm thick phenolic insulation is far more helpful than merely stating "an insulated pipe."
Collaboration is key. This brings together all stakeholders— from the principal designer, who shoulders significant responsibility under the Building Safety Act, to wall manufacturers, MEP representatives, and fire-stopping manufacturers. This ensures a harmonised approach, considering diverse elements beyond just fire safety. Ultimately, the essence of a successful process is continuous communication and collaboration among all parties. The process should promote collective engagement, ensuring thorough checks and validations.
How has the journey towards creating a standardised process evolved?
The evolution towards a standardised process has been substantial. At Quelfire, as we have worked on an increasing number of projects, we've seen project at various stages. This has granted us a bird's eye view, allowing us to identify recurring 'choke points'—areas where issues tend to converge, leading to significant project delays.
These bottlenecks often trace back to poor coordination, an absence of a clear design blueprint, or last-minute planning. In my early days at Quelfire, I frequently found myself stepping in post-design, when builders had finalised their work, services were already in place, and the firestopping professional was onsite, unsure of the next steps.
In such scenarios, the common refrain was, "What should I do now?". Due to a series of oversights, many tasks could not proceed as planned. This led to extensive remedial work—a burden no stakeholder wanted to bear, resulting in a blame game.
We have, however, seen a marked shift recently with our expertise being sought much earlier in the project lifecycle. This shift, which has accelerated notably this year, might be attributed to a change in industry mindset or perhaps legislative measures like the Building Safety Act. It seems the message is finally resonating – though there is still a considerable journey ahead.
What are the benefits of implementing standardised processes?
Many leading contractors have already embraced the concept of a standardised process. They recognised the impending changes and the challenges and have been proactive in integrating these processes.
Those who've successfully adopted the process have seen distinct improvements:
Time efficiency: Contrary to the belief of some that designing and then building might slow things down, the opposite has proven true. With a comprehensive and universally understood design in place, projects are executed within the projected timelines.
Cost-effectiveness: When all parties are privy to the same design, understanding the products to be used and their respective installation timelines, this transparency minimises unforeseen costs and keeps the project within budget.
Peace of mind: A meticulously crafted design, aligned with fire test evidence, guarantees that the safety products will perform as expected, offering peace of mind to all stakeholders.
This ensures the well-being of occupants and provides assurance to those responsible for the project.
What are the challenges of implementing a standardised process?
One of the primary challenges, as highlighted by Dame Judith Hackett, is the need for a significant cultural shift.
Construction methodologies have remained static for years, with many industry professionals set in their ways. Just because practices have been consistent for decades doesn't mean they were optimal or appropriate.
Another challenge is ensuring a comprehensive understanding across trades. Even if a professional isn't directly using a product like Quelfire's, their actions can have cascading effects. Recognising the interconnectedness of actions in construction and understanding the broader implications of individual decisions is essential.
Crucially, the big challenge is ensuring decisions are made by competent individuals. In the past, some decisions have been made based on misplaced beliefs in expertise or qualifications. This has sometimes led to the use of inappropriate products.
It's vital to ensure that those in decision-making roles are both knowledgeable and competent, selecting the right products and applying them correctly.
Why is London Build significant for Quelfire, and why should industry professionals attend?
London Build gathers a diverse range of professionals from across the construction sector, many of whom might not typically attend a dedicated fire show.
The event's multifaceted nature, with its focus on various construction-related domains, including fire safety, ensures that attendees get exposed to a breadth of knowledge and expertise.
This broad audience means that as professionals wander the event, they often discover insights from fields they hadn't initially considered.
By interacting with us at our stand, many realise the significant role they play in passive fire protection, a connection they might not have made otherwise.
Can you hint at your theme for London Build this year?
Our panel discussion at the show is set to take place on the second day of London Build. Our primary aim with these discussions is to resonate deeply with our attendees.
Keeping this in mind, we're conscious about ensuring that the perspectives shared aren't just from Quelfire; we want to present views from eminent figures across the industry. This approach provides a richer tapestry of insights, as attendees hear from professionals who are at the heart of construction and development.
This year, we've invited leading representatives from the Passive Fire Knowledge Group (PFKG) to join the panel. They'll shed light on their efforts in championing transformative changes in the construction industry.
Topics will span the intricacies of establishing a standardised process, its organisational advantages, and the potential hurdles.
What will attendees see at your stand at this year's show?
We pride ourselves on evolving and innovating with each passing year.
This year, while our unwavering commitment to assisting every stakeholder remains, we acknowledge that the onus of choosing and crafting the right solution has increasingly fallen on the main contractor, especially in light of the Building Safety Act. Consequently, our stand will underline this significance.
Expect a visual display with an added focus on in-depth discussions aimed at incorporating processes that will enhance operations.
Beyond London Build, what's upcoming for Quelfire?
We're on a continuous trajectory of growth and innovation. While we've made significant strides in our current projects, we believe we've only begun to tap into our potential.
Our expanding customer base is testament to the value of our unique technical support. We're committed to offering evidence-based guidance rather than opinions.
Historically, our primary focus has been on residential and new build projects. Having achieved considerable success in that domain, we're broadening our scope based on the feedback and requests we've received.
Simply put, there's no slowing down for Quelfire. We have loads of initiatives in the pipeline. So, keep an eye out; there's always something exciting around the corner with us.
An abbreviated version of this article was originally published in the November 2023 issue of International Fire & Safety Journal. To read your FREE digital copy, click here.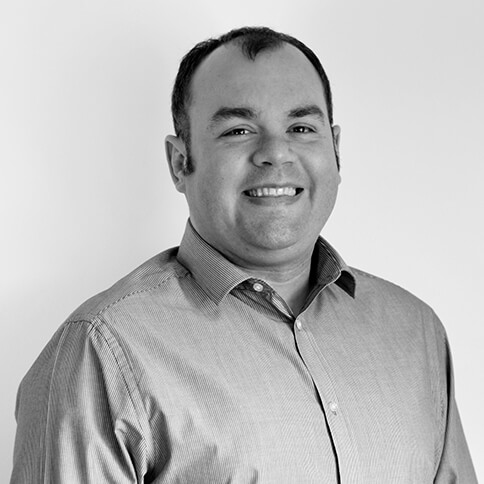 This article was written by Alec Purdie
Learn More About Alec Purdie