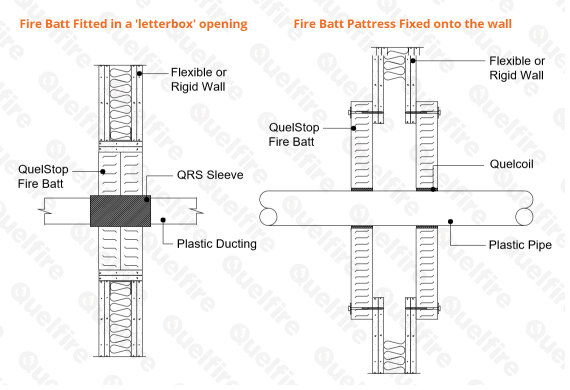 What is the difference between pattress fixing a fire batt and installing it within a 'letterbox' opening?
When pattress fixing (or sometimes known as 'face fixing') the fire batt, it is fitted to the outside of the fire rated wall on both sides and secured with steel screws and washers.
Installing fire batt within a 'letterbox' opening means forming an opening within the fire rated wall and fitting the fire batt tightly within the aperture.
The image shows a typical illustration for both type of Installations.
The choice of install is determined by the test evidence available and there are a number of factors which will affect the decision.
However, in some cases, either detail could be suitable, in which case the chosen solution comes down to personal preference or fire rating required. Some find it easier to pattress fit as the batt does not need to be cut to the exact size of the opening, some prefer to install within the opening as it requires less material and no additional mechanical fixings.
As always, when it comes to passive fire protection, the key is to ensure the solution you use is covered by test evidence, and if unsure about any details, talk to the manufacturer.
For any questions you may have about the installation of fire batts, you can email technical@quelfire.co.uk.