How do you firestop the head of wall? Tested Detail Queries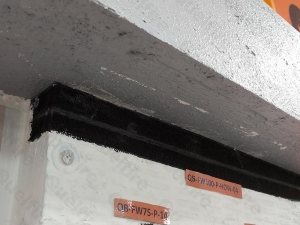 A head of wall joint is the linear gap between the top or 'head' of the wall and the bottom of the floor or roof.
All buildings, whether they are existing, new builds, residential, or non-residential, are required by law to have effective firestopping installed.
Approved Document B: Fire safety, section 9.1, states: "Every joint, imperfect fit and opening for services through a fire-separating element should be sealed with firestopping to ensure that the fire resistance of the element is not impaired. Firestopping delays the spread of fire and, generally, the spread of smoke as well."
Therefore, all joints and imperfections of fit between the plasterboard and blockwork, for instance, must be sealed. This includes head of wall joints.
Whether or not movement is required in the wall or floor depends on the design and the materials used – this will be decided by the structural engineer.
When the wall or floor doesn't require any movement, and there is only an imperfection of fit, intumescent acrylic sealant is commonly used to seal the small linear gap. Though, acrylic sealant may allow for low movement in the joint when used with a compressible backing material such as mineral wool.
For larger gaps, other firestopping products would need to be used. For example, when sealing the head of wall joint to the underside of a steel profile deck floor, intumescent acrylic sealant would be required in conjunction with fire batt.
In some cases, you will find that deflection may be needed when sealing a head of wall joint.
Deflection is the amount that an element or structure bends or 'sags' when a load is applied. It is very common for all structural elements to deflect under load; however, the amount of flex depends on the weight of the load applied, as well as the span and stiffness of the structure.
Minimal deflection in a floor is important because, for instance, if a heavy load is applied to a floor without movement, this may cause the structure to crack.
Therefore, when deflection is needed and the service penetration seal in the wall is in contact with the floor, the seal needs to be able to allow some movement too.
For this type of requirement, a composite intumescent and compressible foam as a preformed strip for linear gap seals may be used in conjunction with the penetration seal.
Though we have mentioned some applications above, it is important to check the relevant manufacturer's tested scope of application and utilise any guidance offered when reaching the installation stage. The correct products, installed correctly, save lives, and protect property!
Quelfire firestopping products
Learn more about QuelStop Acrylic Sealant, QuelStop Fire Batt, QI Intufoam, and Mineral Wool Shuttering Slab.
If you have any questions or need any further information on the applications above, please get in touch at technical@quelfire.co.uk.