Can I use manufacturer A's intumescent sealant with manufacturer B's fire batt? Product Information
"Can I use manufacturer A's intumescent sealant with manufacturer B's fire batt?"
This is a question we often get approached with at Quelfire and the simple answer to it is no. Here is why:
Take a common installation of plastic pipes/ insulated pipes penetrating through a fire compartment wall in an 'oversized opening'. The pipes are generally wrapped with a continuous intumescent pipe wrap (or HPE graphite sealant depending on the application), then fire batt and intumescent sealant is used to provide a complete seal as per the manufacturer's instructions. When these products were fire tested, they would have been tested together as a system. Therefore, all installations should be installed as per the manufacturer's testing and scope of application. It is highly unlikely that the manufacturer of one product has tested their product in conjunction with another manufacturers product.
So whilst it may be tempting for an installer to use manufacturer A's sealant and manufacturer B's fire batt, or similarly, manufacturer A's intumescent fire sleeve with manufacturer B's fire batt, these products should be tested together. If they're not tested together, they may not perform in a fire. Therefore, you should not 'mix and match' different components from manufacturers.
If you have been told to use materials from different manufacturers in a particular installation, Quelfire will be able to offer advice directly to your client  to ensure better understanding around the requirements and parameters. As a manufacturer we are only a phone call away and will be able to advise which products and systems should be used in which application.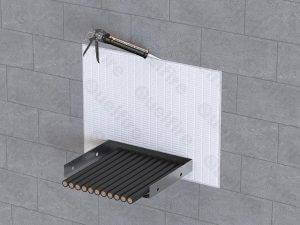 The photo illustrates an installation of our Firestopping System featuring our CE Marked Intumescent Acoustic Acrylic Sealant and our Ablative Coated Mineral Wool Fire Batt.
View the list of products that are part of our Firestopping System >>
If you have any further questions, please don't hesitate to get in touch at technical@quelfire.co.uk.