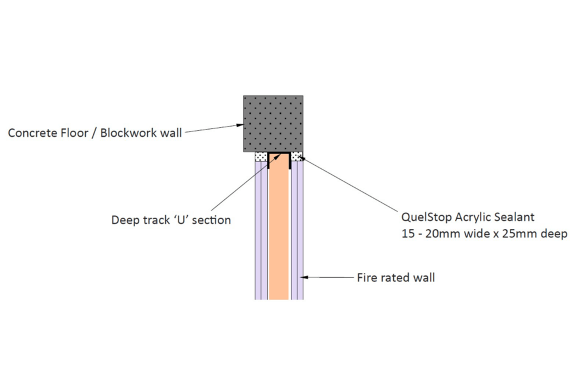 Firestopping the head of wall detail
At the head of a fire rated plasterboard partition the linear gap between the partition and the concrete floor slab should be suitably firestopped.
The QuelStop CE Marked Intumescent Acrylic Sealant can be installed in this application. This is acrylic based and unlike other acrylic sealants this remains flexible to allow for low movement in the joint.
Mineral wool and PE backing rods can be used and a bead of intumescent sealant up to 20mm wide x 25mm deep on both sides of the partition will provide an EI120 (2 hour fire integrity & insulation)
See our QuelStop CE Marked Intumescent Acrylic Sealant here >>