Supplying concrete frame contractors with fully-tailored Cast In Fire Collars
Selecting the QuelCast Cast in Fire Collar to seal pipe (and cable) penetrations through concrete floors, as opposed to creating service apertures using traditional methods, gives invaluable benefits and saves considerable amount of installation time and cost for the overall project.
However, it does pose some challenges for RCF contractors. It is even more essential, than in the case of traditional methods of pipe penetration sealing, to ensure that requirements and resources for Cast in Fire Collars into the concrete slabs are planned from the design stage of a project. It also requires precise positioning of the cast-in devices.
That is why Quelfire offers full technical support throughout the installation, as well as tailoring the devices for individual requirements.
Get in touch for a quotation and full details
What we offer:
Fully-tailored, ready-to-use Cast in Fire Collars
The QuelCast Cast in Fire Collar has been designed at 250mm high to meet the requirements of the most common applications.
For applications where the floor slab depth is between 150 – 250mm, we offer a pre-cut service, and for applications with a floor slab depth greater than 250mm, we manufacture an extension tube to suit the depth of the concrete slab. We can also supply the cast-in devices with the extension tubes attached.
In both cases, the Cast in Fire Collars will be ready to use.
Short lead times and speedy delivery
All our core products are manufactured in our Sandbach premises, UK, where we have large quantities of stock. By getting in touch, you can get a quote or buy directly from us.
We can generally despatch firestopping goods the same day for next day delivery, either directly onsite, to your offices, or a merchant's premises.
Comprehensive technical support throughout the installation of the Cast in Fire Collar
Our fire containment specialists provide concrete frame contractors with unlimited technical guidance, such as installation support and product data sheets, from the earliest stage possible. This is to ensure the Cast in Fire Collars are installed correctly.
Our products for RCF contractors:
Read more about QuelCast CE Marked Cast In Fire Collar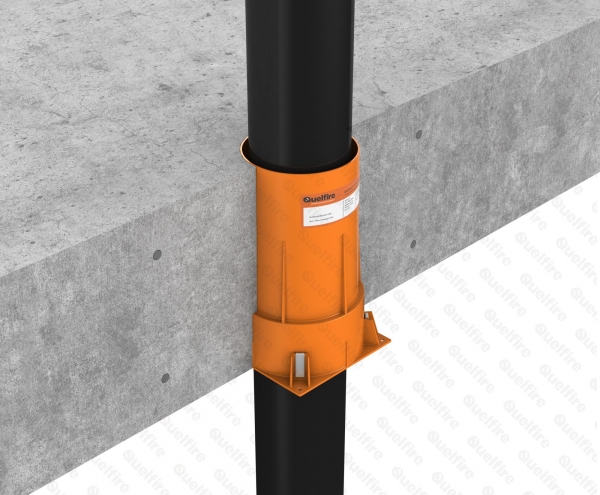 QuelCast CE Marked Cast In Fire Collar
QuelCast CE Marked Cast in Fire Collar provides a simple solution to prevent the spread of fire through plastic pipes and cables where they penetrate concrete floors.
QuelCast Cast in Collar