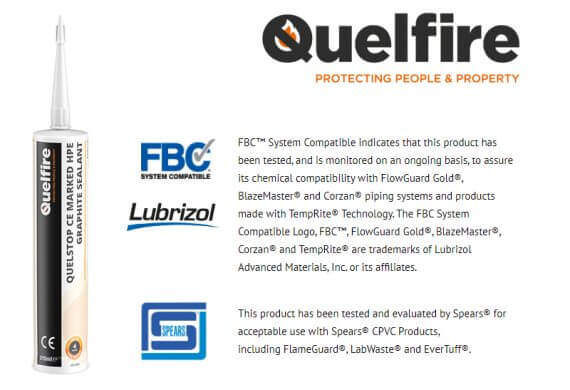 QuelStop HPE Intumescent Graphite Sealant and chemical compatibility with CPVC sprinkler pipes
What does chemical compatibility mean for CPVC sprinkler pipes and why is it important?
It is vital that sprinkler pipes fulfil their function when required. Some components that come in direct contact to CPVC pipes might chemically react with the pipes under certain circumstances causing the pipes to fail. Therefore, it is important that the products that are used in conjunction with these CPVC sprinkler piping systems do not contain any of these components and are therefore chemically compatible.
How is chemical compatibility guaranteed?
To ensure satisfactory performance of CPVC sprinkler piping systems, manufacturers have developed their own schemes to build a list of products that are safe to use with their CPVC sprinkler piping systems. These schemes are based on continuous and rigorous testing and evaluation to ensure chemical compatibility of CPVC sprinkler pipes and ancillary products.
Which CPVC sprinkler piping systems is Quelfire's QuelStop HPE Sealant compatible with?
Quelfire's QuelStop HPE Graphite Sealant has been tested and approved with the following products:
Lubrizol® CPVC piping systems and materials, such as FlowGuard® pipe and fittings and BlazeMaster® fire sprinkler systems (FBC™ System Compatible)
Spears® CPVC Products, such as FlameGuard® CPVC fire sprinkler products, LabWaste® CPVC corrosive waste drainage system and EverTuff® CPVC CTS plumbing system
If you have any further questions regarding this topic, please don't hesitate to get in touch with our Technical Team at technical@quelfire.co.uk