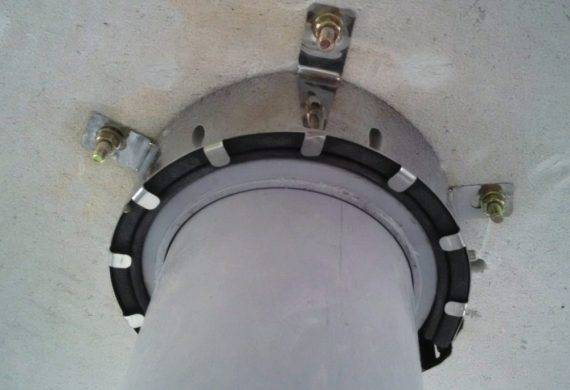 Firestopping – Pipe Couplings
How many see this on site?
A 110mm dia plastic pipe is penetrating through a fire compartment floor and therefore needs a Fire Collar installing. But, it just happens that there is a pipe coupling or connector right where the Fire Collar needs to be installed.
The diameter of a 110mm pipe coupling is usually 125mm dia. and therefore it could be assumed that a 125mm Fire Collar could be installed. But, bearing in mind the extra layers of plastic in the pipe and coupling not just any collar is suitable. The Quelfire QWR125/CE CE Marked Fire Collar however has been specifically tested at Exova Warringtonfire in this exact application and provided up to 4 hours fire rating. The excellent performance was due to the High pressure graphite intumescent that we use in our CE Marked Fire Collars being able to crush the pipe coupling / junction and stop the fire spreading through the concrete floor slab.