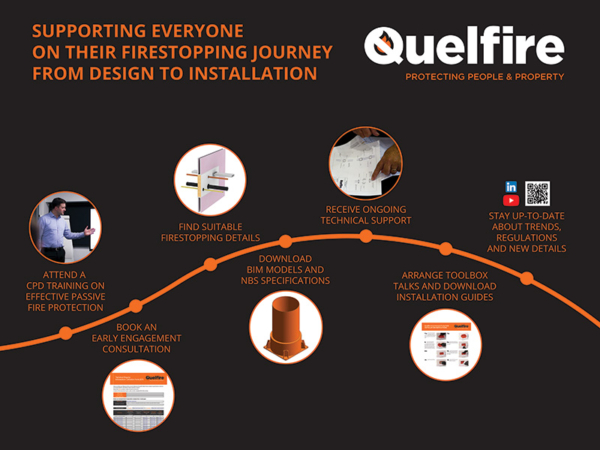 IFSJ spoke to Craig Wells, Sales Director at Quelfire, to discuss firestopping compliance.
Tell me a little about Quelfire?
Quelfire is a manufacturer and supplier of passive fire protection with a primary focus on service penetration seals. We were established in 1977 as a family business and are still family-managed today. Since then, we have grown into one of the key providers of passive fire protection solutions and influencers of the market. Along with the products we manufacture and distribute, we put a huge emphasis on both technical support and education.
The culture within the organisation is very much: if we've got a tested solution we can sell it, if we don't then we have to walk away. A large proportion of our annual investment goes into testing our products to achieve a larger scope of application based on feedback from our customers and the industry at large.
We supply specialist fire stop contractors, main contractors, builders, and all the trades in between – from dry-lining contractors to mechanical electrical contractors, anyone with an interest in passive fire protection we're willing to engage with.
What exactly is firestopping compliance and why is it important?
Building regulations Approved Document B essentially states that all gaps and all penetrations must be suitably sealed. Compliance as a minimum is meeting the requirements of Approved Document B: to install and maintain products which have been tested to the correct standard for the particular application.
It is important because it quite literally saves lives. A lot of people will be familiar with the Stay Put policy. There has been some criticism around that because of the events at Grenfell, but the policy is effective if the compartmentation is maintained using the correct products, installed in the correct way.
What recent developments have you seen around compliance?
The Grenfell Tower fire first raised the issue of compliance and consequently, this has raised the standards the industry must work to. The Building Safety Act, which received Royal Assent in April, has changed things certainly from the main contractor perspective. We hope this will continue.
Fire stopping has historically been regarded as one of the smaller value packages that is implemented on a project towards the end. They will build walls and floors, run all the services through and then ask the fire stopper to come and firestop using the products.
What we're seeing now is a change in the right direction. People are asking: what do we want to build, how do we want to build it, and is there a tested solution available. They're now identifying the tested solution, working out what the parameters of that test evidence are and designing around it. The key thing then is sticking to the plan as we move through to the installation stage.
There are some very positive changes which are being spring boarded by the introduction of the Building Safety Act, but also just a strong desire within organisations to do the right thing, and we are glad to support this.
What should be done to improve compliance throughout the design and installation process?
The buzzwords, and rightly so, are early engagement and cross-party communication. These have got to be encouraged. The fire stop itself is only ever as good as the installation, as the substrate that it's installed into, and as the actual services that are installed. You've got dry liners, mechanical contractors, electricians – maybe other specialist installation trades as well as the wall manufacturers and installers. All these things directly impact the effectiveness of the whole system, so it's important that we're bringing everyone together at an early stage and designing the building using the tested solutions that are available.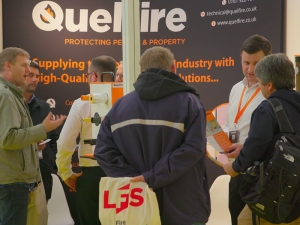 How can parties work together to ensure compliance?
An early engagement meeting is critical. We get everyone together on the same page right from the start, making sure that everyone is involved from the early stages so there are no hiccups along the way. It requires regular meetings with all parties as the slightest change from one party could have quite a massive impact on another.
There are also practical steps that we can take, such as Toolbox Talk training sessions. These are on-the-job training sessions conducted by manufacturers like ourselves.
The construction industry can be fairly complacent in terms of thinking that everyone is competent. If we take simple things like installing putty pads into electric socket boxes – you've got a qualified electrician that's used to wiring up socket boxes and is then being asked to put a fire stopping device into the socket. It's not hard to install a putty pad, but does that individual know why they are installing it? Do they just think it's a gasket and regard it as a nuisance getting in the way of their wiring? Or do they understand that this is a life-safety critical element?
The other suggestion is to install physical sample walls. What you establish at that stage is exactly what is expected in terms of the installation; the writing can be on the wall in terms of expectations. From then on it becomes the benchmark. Anyone onsite can see what's expected and can measure their work against this benchmark.
There can also be that cross-party scrutiny, where one party can say 'shouldn't X be doing this because that's what the demo wall shows?'
How do you make sure that the correct products are being installed?
By promoting the message that help is available. Competency is knowing what you don't know, and it is really important for people to understand that there are manufacturers and system suppliers like ourselves who are willing to help and provide support. People should not think that they have to go it alone.
Technical support services in the construction industry have tended to be an email address that is monitored once every couple of weeks. We aim to respond to emails within one working day. People should understand that help is available and it's not wrong to not know the answer to your solution.
There are people out there that can support you and provide you with an evidence-based solution. This has been a challenge in the industry – people have been afraid to go into the level of detail that's required at an early stage because they think it is going to be hard work to get it out of the manufacturer. But, as I say, things are changing and for us that is one of the main reasons why persons choose to work with us along with our huge, tested scope of application of products.
Quelfire is hosting a panel discussion at London Build this month, what is its focus and why should people attend?
The discussion is called 'The Journey to Achieving Fire Stopping Compliance'. There are two strands to the journey aspect of it. One is understanding that it is a journey – from the early stages working out what is needed to achieve compliance and then the various stops along the way which need to be introduced to ultimately achieve compliance at the end of the project
The other side is that for a lot of people, this is a massive cultural change, and cultural change does not happen overnight. There has been a historic attitude of 'leave it to the end, leave it to the installers' but really to achieve compliance it is a case of 'take control and work out what's needed, and dictate to the relevant people that this is what we need along the way.'
The discussion will focus on the importance of early engagement, designing the building using tested solutions and all the steps and tools that can be used along the way to make sure that all the parties are aligned and, ultimately, the building is constructed compliant and safe. We'll also touch on the things that can be done to meet the requirements of the changing legislation and the emphasis on the Golden Thread.
The Journey to Achieving Firestopping Compliance, led by Quelfire, took place at London Build on 16th November 2022 at 2.30pm on the Fire Safety Stage.
This article has been published in the November issue of the International and Fire Safety Journal, page 70-72.
Supporting everyone from design to installation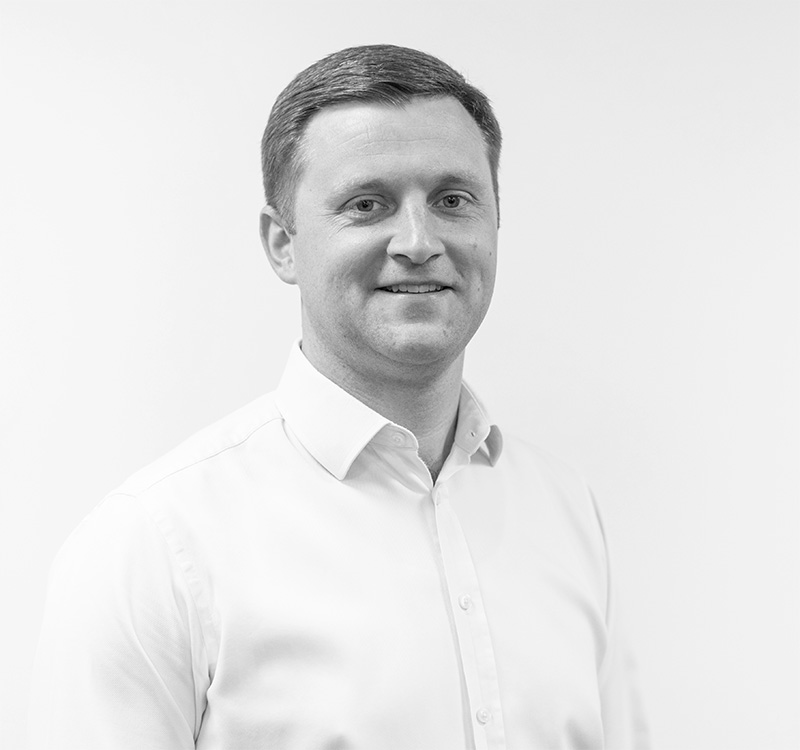 This article was written by Craig Wells
Sales Director
Learn More About Craig Wells