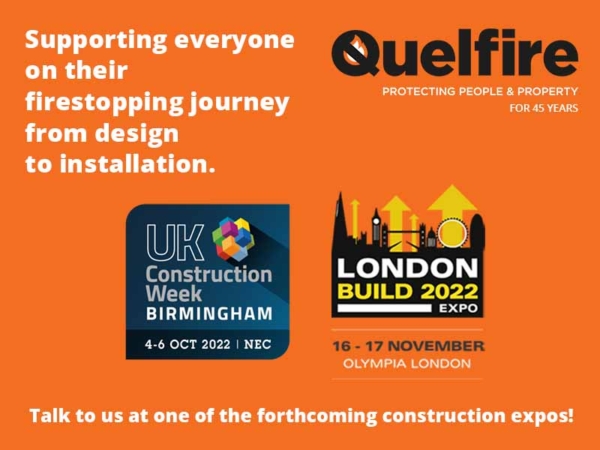 We are happy to announce that we will be exhibiting at UK Construction Week at the NEC, Birmingham between 4-6 October 2022; and London Build at Olympia Grand Hall between 16-17 November 2022.
This year we have jumped, headfirst, back into the world of exhibiting and are looking forward to rounding off a successful year by doing what we are passionate about – meeting new and existing customers and promoting messages that we find important in fire safety.
UK Construction Week (UKCW)
The theme for this year's UKCW is culture change, which aims to highlight the need for 'a new skilled workforce and putting safety and quality first.' With more than 25,000 people expected to attend, it allows for people to come together and explore how the industry can implement new behaviours and best practices, in order to rebuild the future of construction. This is our second show at UKCW and a theme that we are in full support of!
There will be six theatre stages across the NEC that will host a variety of presentations and discussions from leading industry experts. On the second day of the exhibition, our Sales Director, Craig Wells, will present our CPD training on 'Effective Passive Fire Protection for Gaps and Penetrations in Buildings.' The training is mainly aimed at specifiers; however, it is valuable for all those involved in the design or management of installing firestopping solutions from architects to surveyors.
London Build Expo
Known as the Festival of Construction, London Build features 35,000+ registered visitors, a variety of content across eight different conference stages and insights on upcoming construction projects and opportunities across the UK. We started exhibiting at London Build in 2019 and thoroughly enjoy it for its vibrant, yet highly professional atmosphere.
During the pandemic in 2020, we hosted our first virtual round table discussion followed by a live panel discussion in 2021. Following the success of these two panel discussions, we are set to host another one this year to expand more on cultural change and early engagement in firestopping.
The main theme for both UKCW and London Build will be to support everyone on their firestopping journey from design through to installation. Our mission is to use these platforms to continue to educate the construction industry on messages that we find important within the passive fire industry. And show how by actively utilising our tested solutions, expert technical support, customer service and training, we can support customers to achieve full compliancy of installation.
Craig said: "One of our biggest challenges, as manufacturers and suppliers of firestopping solutions, is to help people understand that just because they have always done something a certain way, it does not make it right or suitable. All products must be installed as they are tested.
Although we are a relatively small team, we are hugely passionate about educating the industry and doing it right the first time around. Therefore, we encourage you to ask questions and get in touch to make use of our value-added services.
We look forward to continuing these thought-provoking conversations at UK Construction Week and London Build!"
As new regulations gradually come into force, changing the way in which the construction industry works, the urgency to get up to speed and have these important conversations has never been more vital. At Quelfire, we offer that end-to-end support so that solutions are designed and installed as per the test evidence therefore, contributing to safer buildings.
UKCW highlight video