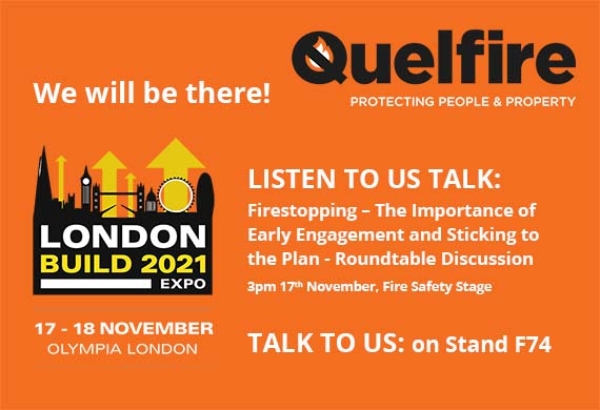 Following the success of our virtual roundtable discussion last November at London Build Online, we have arranged another one this November – this time in person – at the London Build Expo, taking place at Olympia, London, between 17-18 November 2021.
While the first discussion looked at the importance of early engagement in firestopping mostly from design point of view, we are planning to build the forthcoming discussion around the coordination and management of installation. Titled "Firestopping – The Importance of Early Engagement and Sticking to the Plan", it will take place at 3pm on the 17th November, on the Fire Safety Stage.
We have invited speakers to represent the viewpoint of various stakeholders involved in firestopping, and we are delighted to confirm the final panel:
Alex Double, Director – A D Design Consultants Ltd, Drylining & Fire Protection Consultants
Andrea White, Founder and Chair – WIFENG, IFE's Women in Fire Engineering Networking Group
Craig Wells, Technical Sales Director – Quelfire
Graeme Whitty, National Product Director – Willmott Dixon Construction
Jamie Rogers, Major Accounts Director – CLM Fireproofing
The panel discussion will be chaired by:
Andrew Taylor, Technical Officer – ASFP
The discussion will be preceded by a 15-minute presentation by:
Alec Purdie, Technical Coordinator – Quelfire
The session will cover the following discussion points:
The benefits of early engagement and making all the decisions about firestopping at the design stage
The importance of sticking to the plan – the design – at the installation stage
The importance of using a competent firestopping contractor
The difference between the responsibilities of a fire engineer and a firestopping installer
The unique position of Firestopping Contractors and the importance of communication and coordination with all trades
The importance of educating everyone on why it is important to install services a certain way
Practical methods that can be used on site to ensure compliant and as-per-design installations
Where they can find additional information about the topic
If you are interested in watching the previous discussion on demand, you can do so here: https://register.gotowebinar.com/register/3532006691883118608
The Quelfire team will also be available to answer any of your questions on stand F74.
For more information on London Build Expo, for the full conference agenda, and to register your free ticket, visit the event website: https://www.londonbuildexpo.com/
London Build presentation and panel discussion 2021