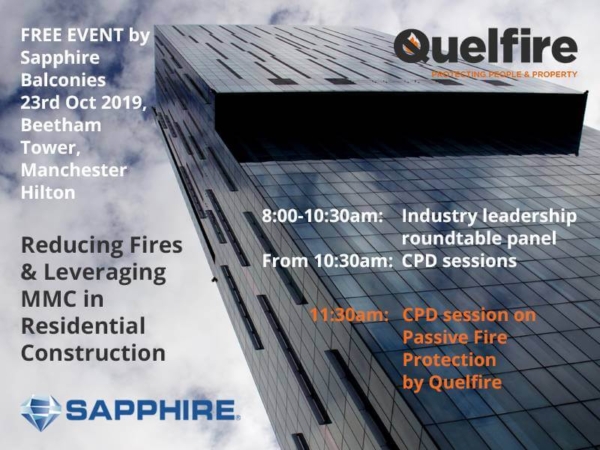 After the success of the event organised by Sapphire Balconies in September at the iconic Gherkin building in London, Quelfire has agreed to join again and hold a CPD at Sapphire's next event on the 23rd October, this time at the Beetham Tower, Manchester Hilton.
The theme for the event is Reducing Fires & Leveraging MMC in Multi Occupancy Residential Construction.
The event will start with an industry leadership roundtable panel discussing key direction for the future from 8:00AM-10:30AM – by invitation only.
This is then followed by relevant CPD seminars while relevant partner stands and product displays being available throughout the day.
Quelfire's CPD session on Passive Fire Protection starts at 11.30am (45mins)
Register on Quelfire's CPD session.
View the full programme on the Sapphire website, including all CPD sessions,
Date: 23rd October 2019
Venue: 23rd Floor/1st Floor, The Beetham Tower, Hilton, 301 Deansgate, Manchester, M3 4LQ