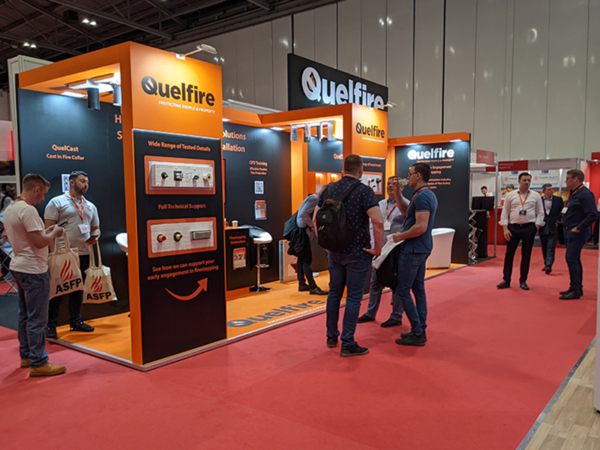 We have had a successful three days at FIREX International at ExCel, London between 17-19 May!
After the Fire Safety Event at the NEC in Birmingham last month, FIREX has been the second event we have exhibited at since before the global pandemic. We have been supporting FIREX with our presence since 2017, but the pandemic meant that the event had to be postponed for a couple of years and so, we were very much looking forward to returning to ExCel, London to meet with existing and new customers based in the South.
FIREX has been a significant platform to promote early engagement in firestopping, launch the QuelSelector, our new firestopping solution tool, and display some of our latest tested details.
Early Engagement in Firestopping: We firmly believe that specialist firestopping contractors and other firestopping system manufacturers should be engaged as early as the design stage of a project.
Tested Details: We offer a wide range of tested solutions which are based on real-life scenarios and regular customer feedback. As seen at FIREX, our QuelStop Firestopping System was used in numerous applications.
The QuelSelector: This is our new guide-like tool which helps our customers navigate through our extensive library of tested details, to find suitable solutions for their application.
The industry in London continues to thrive with The Construction Industry Training Board (CITB) projecting Greater London to have "the strongest regional rate [between 2021-2025] averaging 4.8% over the five-year forecast, driven by infrastructure and private housing." Although Quelfire is based in Sandbach, in the Northwest, we supply our products nationwide and can support everyone involved in the design and management of installation of firestopping products, wherever they are based in the country. Our Business Development Manager, Malcolm Williams, is dedicated to taking care of our customers based in the South.
Malcolm said: "FIREX this year was enjoyable – it is good to be back after three years away, and as good as ever. It is great to be engaging with all parts of the London market from designers, main contractors, and specialist installers of our products, all of whom appreciate the great technical support we provide. It has also been great to hear from them how positive everyone is about the year ahead.
We had some great feedback on our new QuelSelector tool, which will help make all of our customers' lives much simpler and on some of the newer tested details we were able to showcase. We are looking forward to doing it all again at London Build in November!"
On behalf of us all at Quelfire, we would like to say a special thank you to everyone who made the exhibition possible, and to those who came to talk all things passive fire protection with us at our stand. There is still a long way to go in terms of cultural change, but this is proof that, as an industry, we are moving in the right direction and "making life safety a right, not a privilege." We look forward to continuing these important conversations at London Build, Olympia London between 16-17 November 2022!