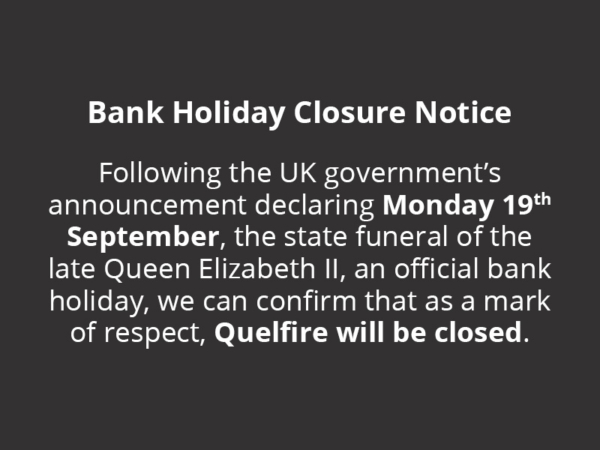 Following the UK government's announcement declaring Monday 19th September, the state funeral of the late Queen Elizabeth II, an official bank holiday, we can confirm that as a mark of respect, Quelfire will be closed.
We will be closed from 4:30pm on Friday 16th September and reopen at 7:00am on Tuesday 20th September. Please be aware when ordering, as we will not be delivering during this period.
If you require goods to be delivered before the bank holiday, please place your order as soon as possible but no later than 2pm on Thursday 15th September.
Orders received after 2pm on Thursday 15th September will be delivered on or after the 20th September.
Please also be aware that, due to the unprecedented transport demand in run-up to the funeral and the extensive road closures on the day, deliveries to London may be delayed.
Thank you for your cooperation and if you have any queries, as always, please feel free to contact us at sales@quelfire.co.uk or 0161 928 7308.
The Quelfire Customer Service Team