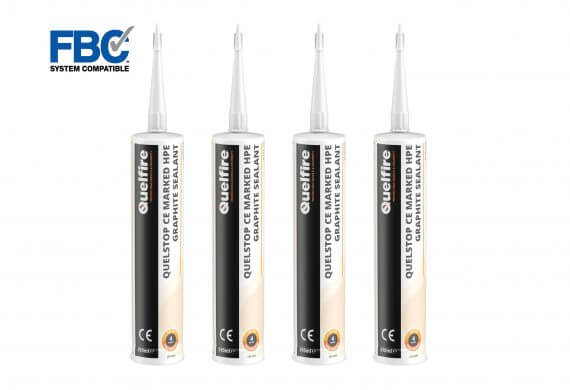 What does FBC™ System Compatibility mean for the QuelStop Intumescent Graphite HPE Sealant?
Lubrizol is the leading manufacturer of CPVC piping systems and materials, such as FlowGuard® pipe and fittings and BlazeMaster® fire sprinkler systems (the latter being the most specified non-metallic fire sprinkler systems in the world).
The QuelStop Intumescent Graphite HPE Sealant has been fire tested with all the commonly used plastic pipes and complies with the requirements of BS EN 1366-3:2009.
As different CPVC products may vary slightly in chemical composition and may react differently with accompanying construction products under various circumstances, Lubrizol developed its own compatibility program to determine chemical compatibility of accompanying construction products such as firestopping products to ensure a higher compliance.
To qualify for inclusion in the program called FBC™ System Compatible Program, products have to go through additional testing and their manufacturing facilities audited by a third-party lab. Products accepted into the program are displayed on the Lubrizol website under the System Compatible Product Finder and given the right to display the FBC™ System Compatible mark on their labels.
Learn more about the QuelStop Intumescent Graphite HPE Sealant >>