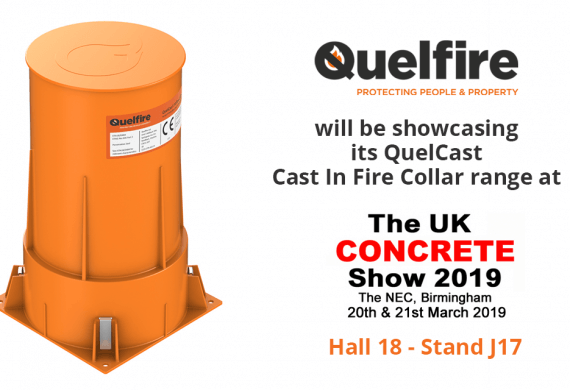 Quelfire to exhibit at The UK Concrete Show 2019
We are delighted to announce that Quelfire will be exhibiting at The UK Concrete Show, Europe's number 1 specialist concrete event on 20-21 March 2019, at the NEC, Birmingham.
The UK Concrete Show is a rare opportunity to be able to meet specialist industry suppliers at the same place within a couple of days, it is recommended to everyone involved in the specification and purchasing of products and solutions related to concrete, such as architects, main contractors and concrete frame contractors.
Quelfire will be showcasing its QuelCast Cast In Fire Collar range and you will be able to discuss your requirements and learn about the technical details of the product from our fire containment specialists in person.
QuelCast Cast In Fire Collars prevent the spread of fire through plastic pipes and cables where they penetrate concrete floors and provide up to 4 hour fire rating. They are tested to BS EN 1366-3:2009 and are CE Marked. The cast in devices are suitable with a wide range of plastic pipes, and also cables and are available in various sizes.
Contractors using QuelCast Fire Collars can save up to 40 percent in material and installation times compared to traditional on site methods – by eliminating the requirement for timber formwork or concrete drilling, whilst avoiding work at height to fit collars or wraps after the floor slab is in place.
In addition to other advantages over other cast in devices – such as strong lid, compact footprint and Type X Durability – the QuelCast Fire Collars are backed up with Quelfire's market-leading technical support.