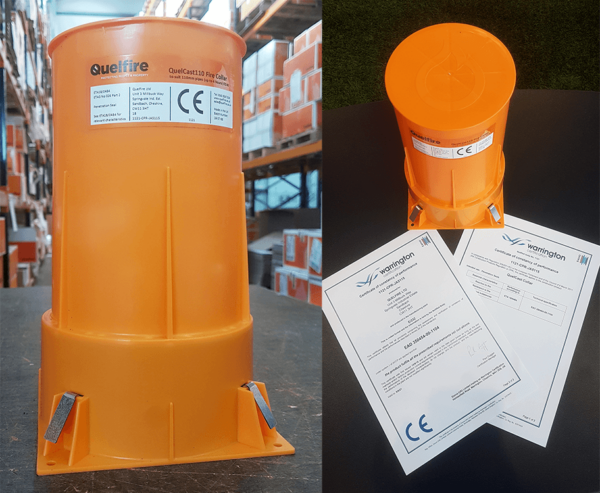 Quelfire has announced that its QuelCast Cast In Fire Collar range has gained CE Marking.
QuelCast Cast In Fire Collars prevent the spread of fire through plastic pipes and cables where they penetrate concrete floors.
The QuelCast Cast In Fire Collars have been tested in accordance with BS EN 1366-3: 2009 where pipe diameters of up to 160mm have met insulation and integrity criteria for this standard for up to four hours (EI240), maintaining the fire rating of the concrete floor slab.
QuelCast Cast In Fire Collars are an essential part of a fire stopping strategy because they enable plastic pipes and cables passing through fire compartment floors to meet the requirements of Building Regulations.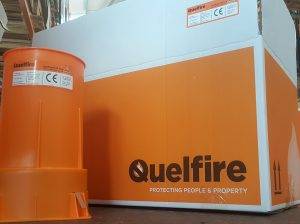 As part of the CE Mark certification, Quelfire has strict quality control processes in place. This involves every batch of QuelCast collars undergoing a series of tests to ensure consistency and guarantee performance. The company is then audited by Warrington Certification and inspectors visit its factory on a regular basis to verify that manufacturing is carried out to the same high standards as the products that were fire tested for CE certification.
Keith Wells, Quelfire Managing Director, said: "The CE Mark approval on our cast in fire collars is a significant accomplishment for Quelfire. The fire collars meet the rigorous and high safety standards that we have set for all passive fire protection products. Contractors that switch to our cast in collars will demonstrate that they are taking proactive steps to ensure the consistency of fire stopping of service penetrations."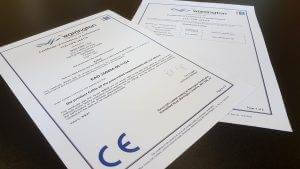 QuelCast Cast In Fire Collars are quick and simple to install and generally require no backfill, avoiding additional cost and time once positioned. They have a compact footprint that allows for closer positioning of pipes as well as an integrated moisture and smoke seal. The collars feature integral fixing points for easy installation in site.
Contractors that use QuelCast collars save around 40 percent in material and installation times compared to traditional on site methods – they eliminate the requirement for timber formwork or concrete drilling, whilst avoiding work at height to fit collars or wraps after the floor slab is in place.
Constructed from a robust polypropylene material, the collars contain a high performance intumescent that reacts under the influence of heat. This will exert pressure on the pipe as it softens, to form a carbonaceous char, which provides an effective insulation plug, preventing smoke and fire passing through to the adjoining compartment.
The QuelCast Cast In Fire Collars offer Type X Durability, meaning they are unaffected by weathering once installed on site. The range features a strong, robust lid, avoiding a number of health and safety issues on site for main contractors. They are suitable for foot traffic and wheeled trolleys, whilst preventing items falling through the aperture.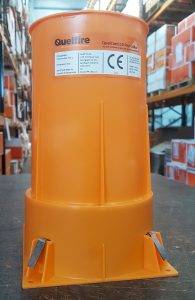 QuelCast Cast In Fire Collars are suitable for one of the widest ranges of plastic pipe materials in the market, including PVC, PVC-U, PE, HDPE, MDPE and PP as well as a number of pipe wall thicknesses. They are available to suit 50mm, 110mm and 160mm pipes. QuelCast Collars have also been tested and can be used to firestop cable penetrations.
The range is backed up with Quelfire's market-leading technical support, which is available to all customers. Quelfire's promise is to assist customers all the way from design stage through to installation and completion of the project. This service will be highly valued by reinforced concrete frame contractors looking to meet tender commitments on current and future projects.
Quelfire offers a one-stop-shop, single branded system approach that provides contractors with a wide range of firestopping solutions. The products are manufactured by the company in the UK. Quelfire is one of the leading manufacturers and suppliers of specialist passive fire protection for buildings and has 40 years' experience of supplying high quality, independently tested solutions.
Learn more about the QuelCast Cast In Fire Collar range
See also: What is a Cast in Fire Collar?